Course Description
Prince Albert Collegiate is committed to offering an alternative to traditional education. Our Outdoor Adventures programming for the 2023 school year will be open to Grades 10 – 12. Come in and set up a timetable without four walls. Learn outside, see new places, and meet lifelong friends.  
Follow us on Instagram:
Follow us on Facebook:
Past Outdoor Adventures
Faces of Outdoor Adventures
Mr. Stephen Groves – OA Teacher
Stephen is one of the faces of Outdoor Adventures. As one of its programs teachers he has a wealth of knowledge centered on the land.  At home he keeps occupied with his own small mixed farm of goats, chickens and the sort. In the past Stephen has worked in Yellowknife as a teacher, outdoor wilderness camps as a guide, as well as a recreational sport director for the province. 
Mr. Jordan Holmen – OA Teacher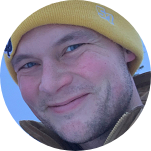 Jordan is our other face behind Outdoor Adventures. He has been involved with outdoor learning his whole career. For the better part of a decade Jordan has worked at Riverside Public School running Outdoor Education classes for students in Grades 5-8. Taking students from the mountains to Saskatchewan's shield and every place in between. Last year he ran a pilot program with Gr. 9's in an immersive outdoor experience in block 1.   

Ms. Megan Schwan – OA Ed Assistant 
Megan is also involved in Outdoor Adventures. She is eager and willing to try anything with a fresh perspective. Taking on a primary role in the pilot project with supporting Grade Nines she is essential to our class. Helping support students in challenging environments is where she thrives. With a great sense of humor and competitive spirit, we are glad to have her lift our students up when they face challenges in the outdoor environment.